Meet Our Agents
Whether you're in the market to buy, sell, or interested in auction services, we have an agent to meet your every need.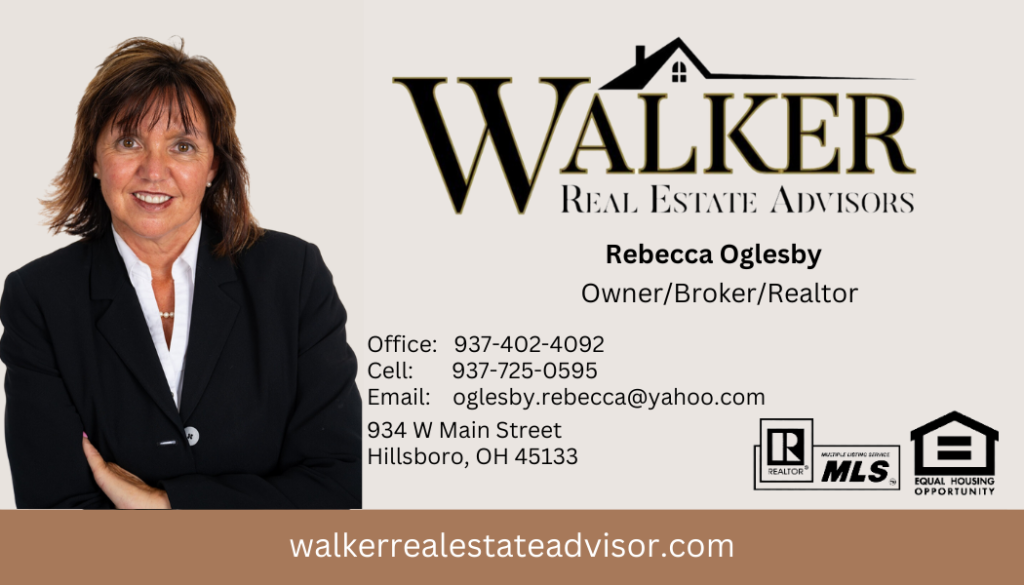 My name is Rebecca Oglesby. I am the broker/owner of Walker Real Estate Advisors. I have been in the real estate business and licensed for over 28 years. I am also a licensed insurance agent.
My husband, Nick, and I have raised 3 girls, Miranda, Morgan, and Mackenzie on a local farm. We love the Highland County area, and I am happy to own and serve in this Southern Ohio area.
I believe in small family and their loyalty.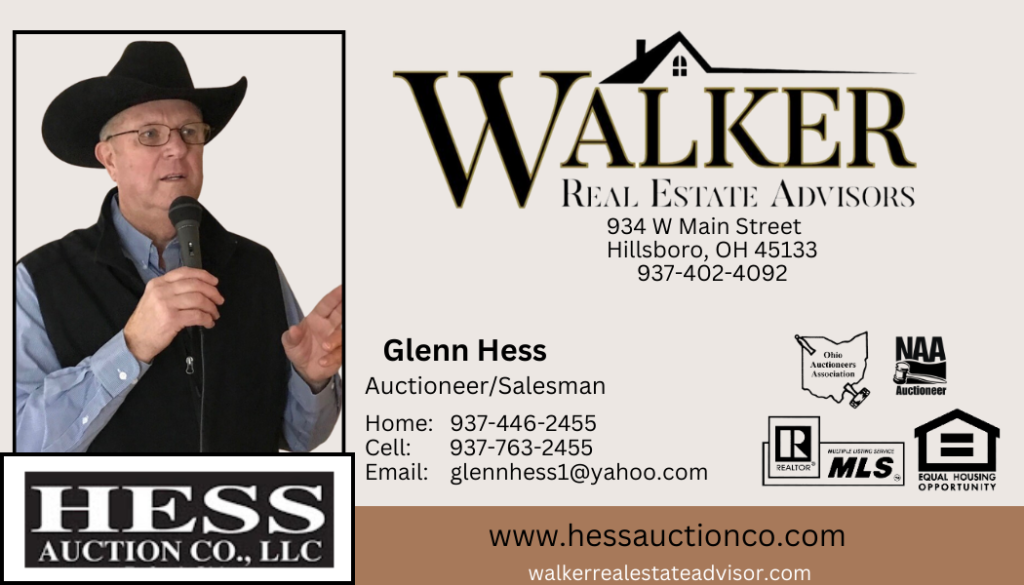 Hi. I am Glenn Hess, and I started in the auction business in 1967 following in my father's footsteps and working in the family business. In 1977 I received my real estate salesman's license and have successfully sold real estate at private treaty and at auction as well. I have been in the Ohio Board of Realtors Presidents Club in 1999, 2000, 2001, 2003, 2004, 2005, 2006 , 2007, 2008, 2009, 2010, 2011,2012,2013, 2015, 2016, 2017, 2018, 2019, 2020 & 2021 for selling $1 million & in 2014 received an award for selling over $2.5 million dollars of real estate. I have broad experience in all facets of the auction business.
I was recently inducted into the Ohio Auctioneers Association Hall of Fame. What a great honor to be able to do the job you love for more than 50 years and be recognized by your peers in the association you're in. I am proud to have followed in my father Dannie's footsteps, as he received the award in 2008. This is a rare event to get inducted and for a father son combo to have gotten in makes it even more special.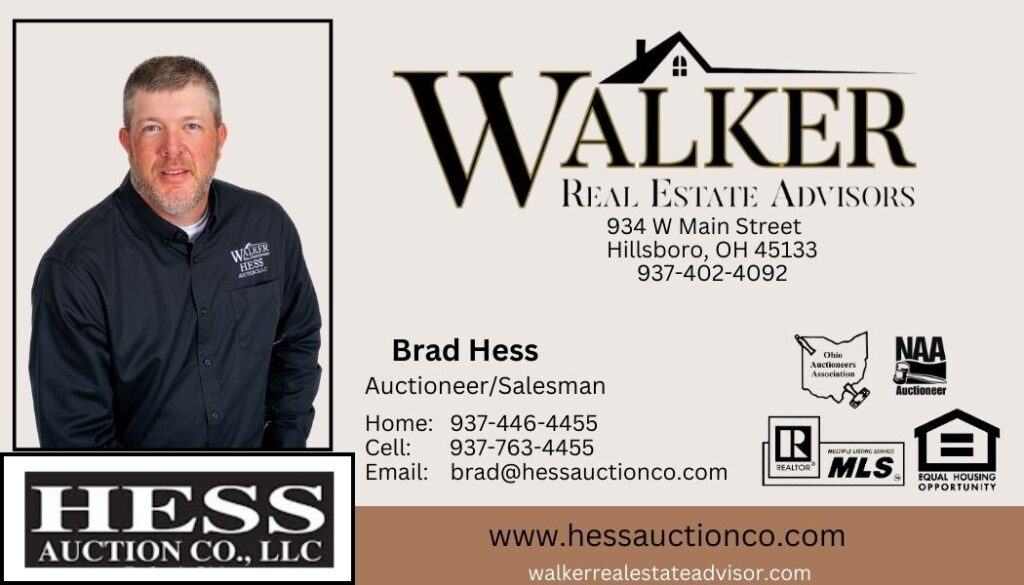 Hi, my name is Brad Hess. I am a 3rd generation auctioneer in the Hess family, having earned my license in 1991. I obtained my real estate sales license in 1994 and have been very successful in marketing real estate, both as an agent and an auctioneer. In 2000, 2001, 2003, 2004, 2005, 2006, 2007, 2008, 2009, 2010, 2011, 2012, 2013, 2015, 2016, 2017, 2018, 2019, and 2020 I received the Ohio Realtors Association Presidents Club Award for selling over one million dollars in real estate. In 2000 and 2014 my sales totaled over 2.5 million. In 1995, I was also named champion at the Ohio Auctioneer Bid Calling Contest.
My wife, Kim, and I have 2 boys, Bricen & Caden. We have been married for 24 years and reside in Buford. We operate Hess Family Cattle where we raise and sell high quality show steers and heifers all over the United States. I am also a cattle auctioneer at United Producers Livestock in Hillsboro and sell cars for ADESA auto auction weekly.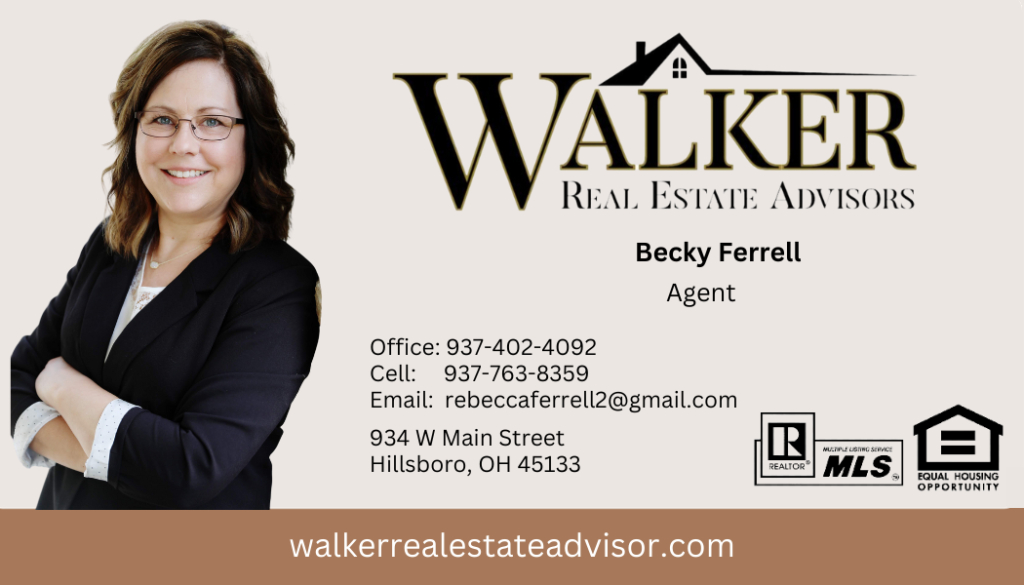 My name is Becky Ferrell. I have lived in Hillsboro for over 30 years. I became a licensed realtor in 20017. Prior to my real estate career, I had worked in aviation since the age of 17, when I first joined the Air Force. I am now a Senior Buyer for ABX Air in Wilmington.
A native of New Mexico, I met my husband, Tony, in the military. After our time was served, we decided to move "home" to Southern Ohio to raise our family. We have 2 daughters who now live in Cincinnati. We also have 2 amazing grandkids that we love to spoil and spend time with.
I enjoy the sense of community in a small town and helping others with their real estate needs. My favorite aspect is walking first-time home buyers through the purchasing process. My extensive purchasing experience has paved the way for me to be able to help buyers and sellers alike.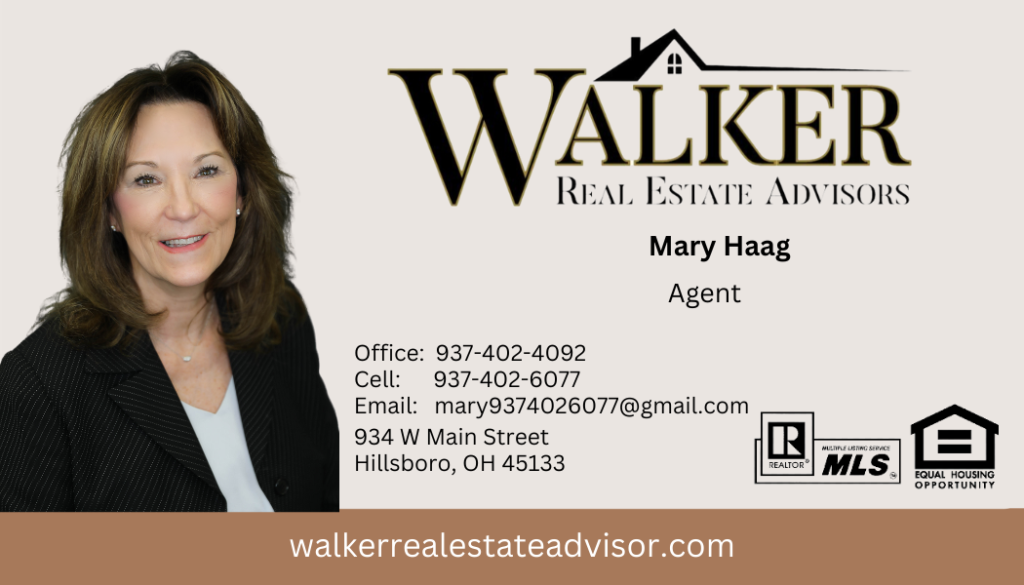 Hi, my name is Mary Haag. I moved to Hillsboro in 1995. At that time, I was a mortgage lender where I spent 13+ years helping people with their financing needs. I had a particular focus on helping first time home buyers and working with government loans and grants. In 2008 I made a career move and became a licensed real estate agent. I still have the passion for helping buyers and sellers start new chapters in their lives in all of Southern Ohio.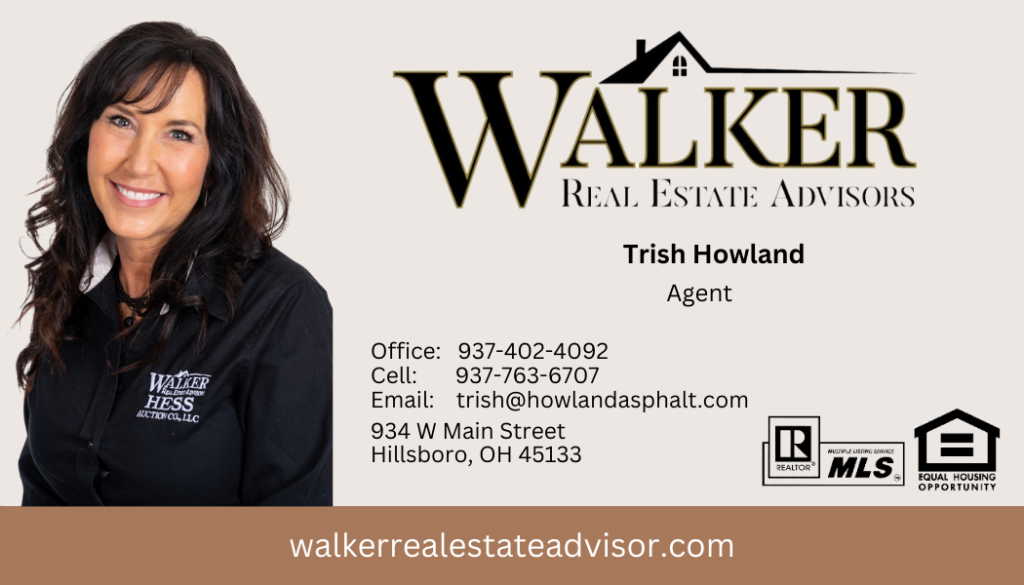 Hi, I'm Trish Howland. I am a graduate of Hillsboro High School and Wilmington College. I was an elementary and middle school teacher for Hillsboro City Schools for 22 years.
I live in Leesburg with my husband Josh and our 4 children, Logan, Landen, Jadi, and Jackson. And I am a member of Marshall Church of Christ.
I have bought and sold real estate for several years, giving me the knowledge and expertise necessary to provide my clients with a positive real estate experience. My ties and knowledge of Highland County and the surrounding areas have given me the background to better serve prospective buyers and sellers. I am committed to my clients, and I work hard to make their real estate experience memorable and enjoyable.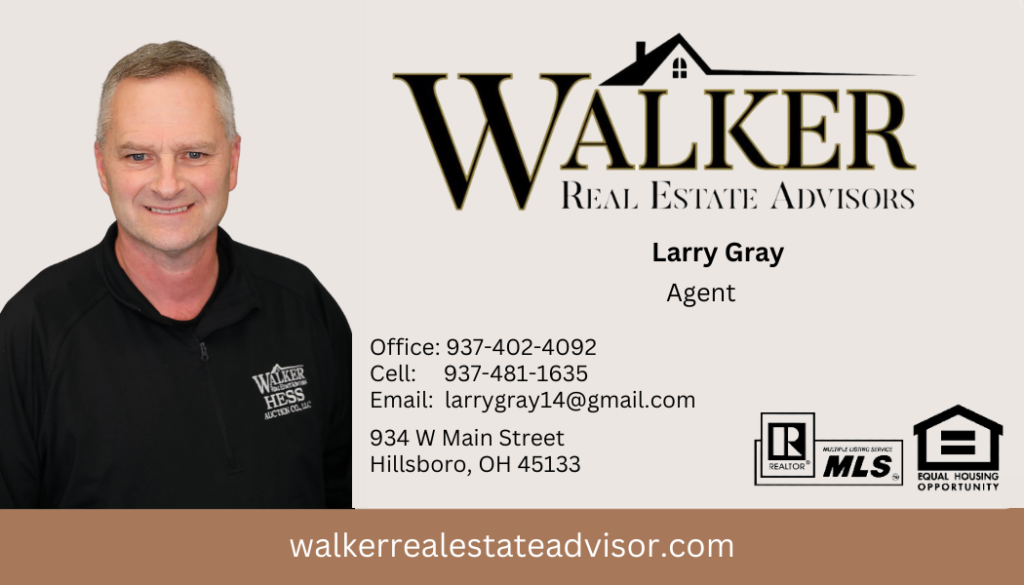 My name is Larry Gray, and I am a lifelong resident of Highland County. I grew up in the small town of Lynchburg, and now reside in Hillsboro. My wife Nancy and I have 5 children, 7 grandchildren, and 2 great grandchildren. We attend church at Youngsville Pentecostal Holiness Church in Seaman, Ohio.
I am new to the real estate sales field; however, I have been involved in the buying, selling, renovating, and new construction of real estate for several years through past and present employment. I am the current Executive Director of the Fayette/Highland County Metropolitan Housing Authority. I had previously worked at ABX Air for over 31 years, with most of that time spent in management of the ground and flight departments. I am a 17-year veteran of the Ohio Army National Guard.
I look forward to helping others find a new home for the first time or upgrade to a larger home. My current and previous experience will help me assist others with selling, buying, or purchasing a site for that new construction home.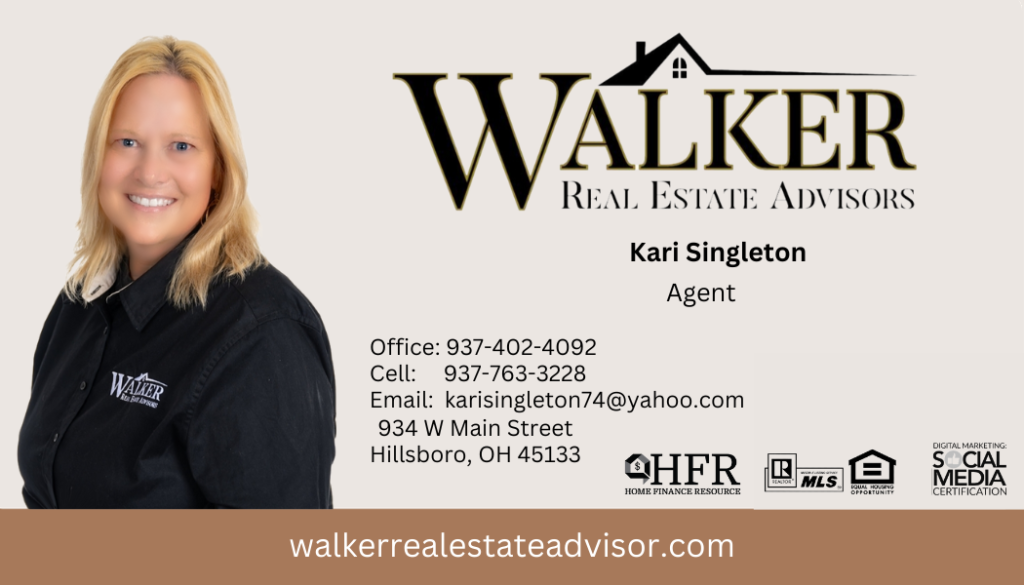 Hi, I am Kari Singleton. I am a life-long resident of Highland County. I grew up in the small community of Allensburg and graduated from Lynchburg-Clay High School. I have my bachelor's degree in respiratory care and to work as a respiratory therapist. I also have a home bakery business specializing in cheesecake. Prior to respiratory, most of my experience was in retail management, including being a co-owner/operator of a successful greenhouse business.
My husband, Phil, and I reside a little south of Hillsboro. I have 3 children and 5 amazing grandchildren. I enjoy spending time outdoors, hunting, fishing, hiking, camping, taking road trips, and exploring. My other hobbies include reading, baking/cooking, and writing. But more than anything, I love spending time with my grandkids.
I have had an interest in real estate for as long as I can remember, and I finally decided to make the leap and follow my dreams. While I may be new to the field, I believe my experience in customer service and the medical field have given me the tools that I need to succeed. I have a passion for helping others, and I look forward to helping you find your dream home or sell your current one.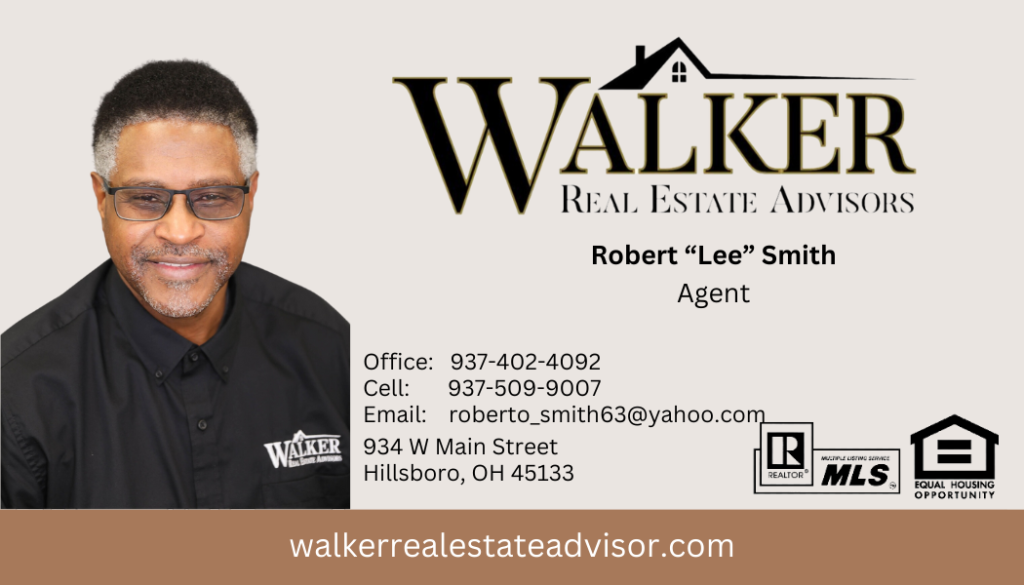 Hi, I am Lee Smith. I have lived in Hillsboro my whole life (34 years). My wife, Terri Zimmerman Smith, and I have 4 children, Chris, Ashley, Jasmine, and Leon. We have 6 grandchildren, Amani, Kamia, Jaxon, Cam, Duncan, and Nora.
I serve as the Chairman of the Trustees of New Hope Baptist Church, Executive Board member of the Highland Health Providers, and board member of AAARC.
I enjoy doing group projects with my church, watching and attending high school, college, and professional sporting events, spending time with family and friends, and meeting new people.
If you are interested in buying, selling, or investing, give me a call or send me a text.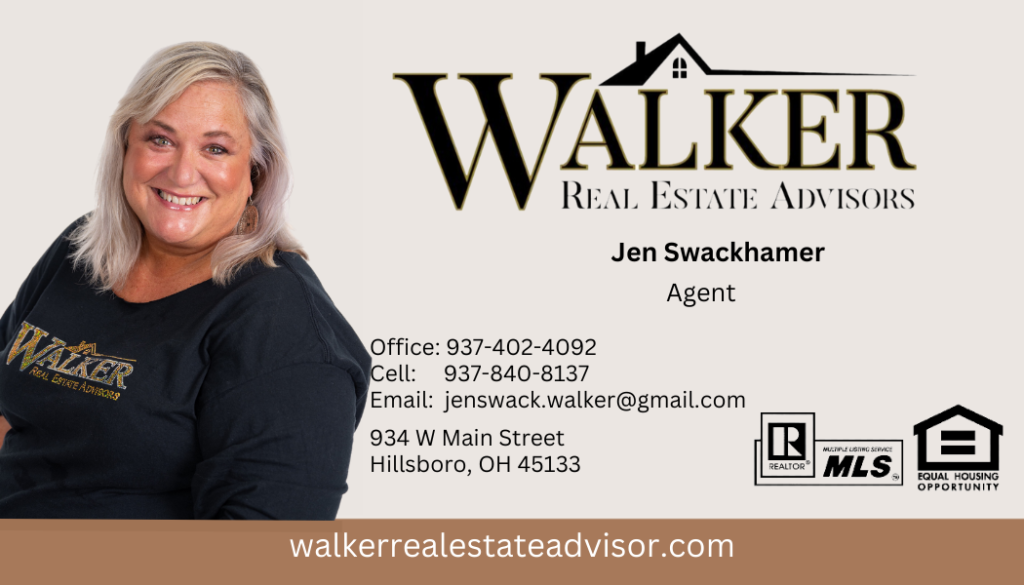 Hi, I am Jen Swackhamer. I have been aspiring for a career in real estate for many years and I am overjoyed to be joining Rebecca Oglesby's team. I am a former small business owner and worked for many years in administrative roles. I have dedicated much of the past decade being a volunteer with the Hillsboro Athletic Boosters, Hillsboro After Prom, and I founded the Hillsboro Indians Football Moms and Enthusiasts.
My husband Rodney and I have been married for 25 years. Our daughter, Bethany Holiday lives in Hillsboro with her husband, Brandan, and children Tanner Watson, Eli Watson, Brandan Holiday Jr, and Hattie Belle Holiday. Our son R.J. Swackhamer is the barber at Details Salon and Day Spa in Hillsboro and has plans to someday establish his own local barber shop.
My goal is to provide you with a comfortable environment while I work hard to get the outcome you desire.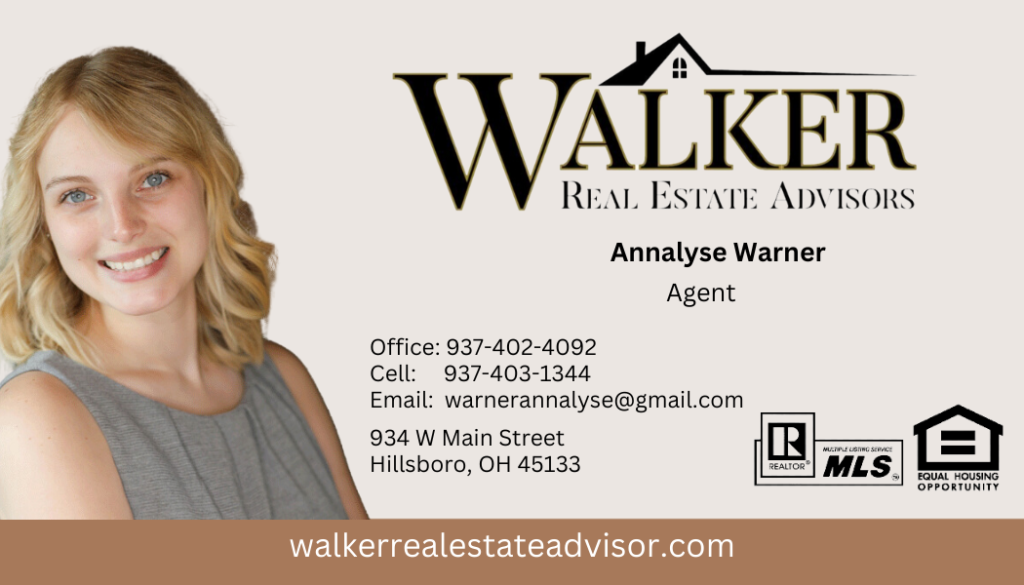 Hi. My name is Annalyse Warner. I am the daughter of Michelle Short and the late Jeromey Warner.
I have been a local resident of Hillsboro for most of my life and I am a 2020 graduate of Lynchburg-Clay School. In my free time, I enjoy spending time with my family including my fiancé, Hunter Mootz, and our son, Grayson.
Together, we enjoy working our horses and working on projects through TH Mootz Construction, LLC.
I am very excited to be a part of the Walker Real Estate Advisors team, and I am anxious to help you and your family sell or buy your next home. I can be reached by phone at (937) 403-1344 or by email at [email protected].